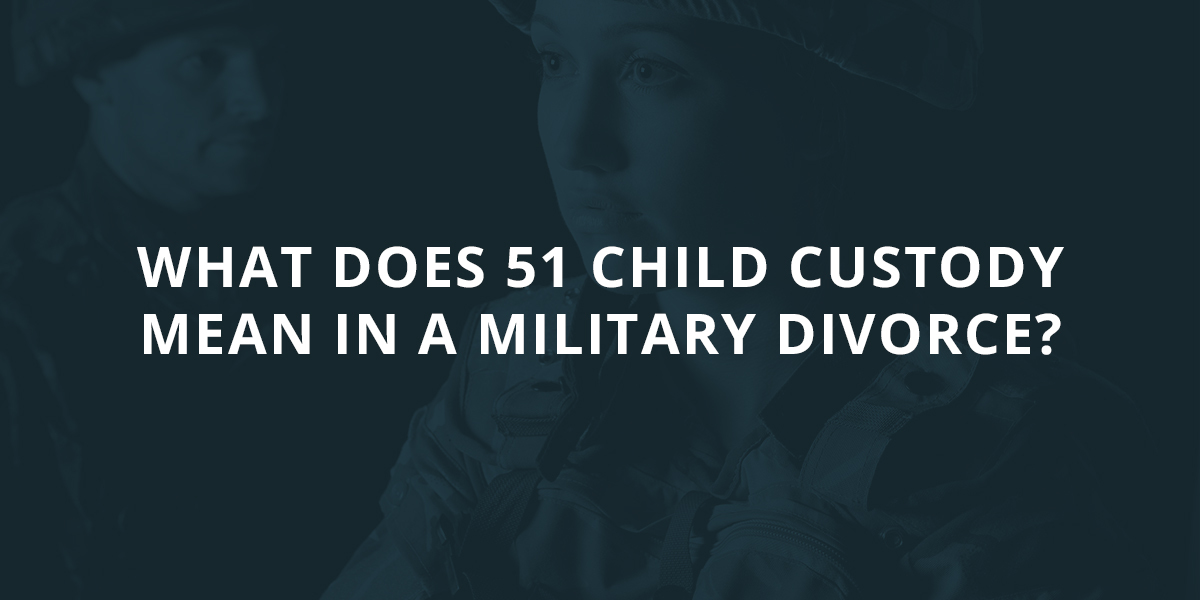 How Much Custody do you Need to be Eligible for BAH?
Making the tough decisions throughout the entirety of a military divorce is difficult, and in terms of whom your child will live with the majority of the time is challenging within all divorce settlements. The California court system is more than likely always going to make child custody decisions based on what is in the best interest for the child, but there are many situations in a military divorce in which both parents will try to come to an agreement that leaves the service member with 51% child custody.
The main reason why 51% child custody is so important within military divorces is because of the monetary allocation discrepancies within the military's BAH (Basic Allowance for Housing) rate system. This, in a nutshell, provides a huge incentive for active military members to have the primary custody of the children during a divorce settlement, but of course, providing 51% child custody is a lot easier said than done.
Why 51% Child Custody?
Although it seems as though there is practically little to no difference between a 50/50 custody plan and a 51/49 plan in terms of dividing up the parenting time, in actuality there is a huge difference when it comes to establishing a head of household status for tax purposes.
In this article we're going to go over the basics of the military's BAH so you can have a better understanding as to exactly why 51% child custody is sometimes a factor in military divorce settlements; and we'll also provide our advice in terms of how to go about handling these convoluted divorce issues.
But when it comes down to it, this situation is always going to necessitate the assistance of an expert military divorce attorney, and by contacting us we'll be able to set you up with a free consultation that can further answer your questions about what best suits your family's specific circumstances.
What is Basic Allowance for Housing (BAH)?
Basic Allowance for Housing (BAH) is by far one of the most helpful benefits that the government provides military members, and the overall intention of BAH is to give a comprehensive housing allowance that supports service members. Because the military has limited amounts of housing options available, BAH is typically offered to certain military members who either choose to live in non-military housing or when military housing isn't available.
BAH With and Without Dependents Rates
The complicated aspect of BAH as it pertains to military divorce is the rate, primarily the dependency status factors that come into play when deciphering BAH rates to service members.
BAH is broken into with and without dependents rates, and any dependent rate is always going to remain the same no matter how many children a military couple may have. The differences between these two rates is substantial, which is why 51% of a child custody plan and the right to claim a with dependents rate is crucial within military divorce settlements.
Many military members going through a divorce will ask their ex-spouse to provide them 51% of child custody so they can receive the government benefits to live in an off-base apartment and have a place for their family to come visit them. Providing this to a service member when you're not in the military yourself is a very kind gesture, but there are certain questions you must ask yourself before going through with this type of legally binding agreement.
When both parents are actively serving in the military it can make choosing who will have the 51% child custody rather complicated. This is exactly why you'll always require the assistance of a certified family law specialist within these types of divorce settlement scenarios.
Understanding the Details
The amount of child support a parent will receive from a military service member with 51% custody will undoubtedly change, and the reality is that although a military member may technically have more of a time-share with a child on paper it may not actually come to fruition.
You're going to need to know the details as to whether or not an active military parent is going to have the time to take care of your child/children more than half of the time, or will the children be put in day care and not even have that much time with the military parent?
You also have to consider the proximity in which your ex is living to you, because it simply may not be feasible in terms of swapping custody back and forth when the military member is deployed or living on a foreign base.
There's no doubt about it that there's a huge incentive for a divorced military parent to have 51% child custody on paper, and if both parents are openly ok with doing this then we're sure you'll be able to work things out for your child's best interest. But, there's also no denying the facts that this decision requires the assistance of a legal expert to help you navigate through your specific circumstances in order to decipher if this child custody agreement is feasible for your family.
An Experienced Military Divorce Attorney Can Help
Even given the circumstances in which both parents agree on a child custody plan within a military divorce, you're still going to need a seasoned attorney to help you finalize you divorce agreements and point out any areas that you may have somewhat overlooked.
By working with Mr. Fritsch, you'll rest assured that your custody rights and your children's rights are fully protected. Child custody within military divorce settlements is always very complicated, so we'll make sure to fully review your case in order to confirm your agreements are truly in your best interest and will provide the very best results for your children.
Contact us for a free consultation to get peace of mind when it comes to knowing the best child custody options within your military divorce.